To move towards a more sustainable society, we need alternative products, practices and systems. As a temporary mini society, festivals are a perfect playground to experiment with these alternatives. They offer a real-life context with similarities to the real world where people can experiment with sustainable innovations in a rather safe, fun and laid-back atmosphere.

This guide provides sustainable innovators, start-ups, incubators, festival organisers, researchers, students, government representatives and anyone else that wants to contribute to sustainable innovation, insight in how a festival can be used as a place for sustainable innovation.

The first part of this guide is an extensive introduction on why festivals are interesting places for working on sustainable innovation. The second part of this guide is a practical 7-step approach helping you design, implement and evaluate your very own festival experiment. The guide is an extensive collection of practical experience which is illustrated through 24 case examples, many practical tips, ready to use worksheets and references to further reading. Together, the contents of this guide will provide you with all the right tools to start experimenting at a festival yourself!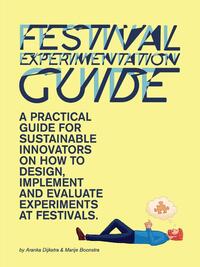 : 9789491589973

: Engels

: Paperback

: 330

: oktober 2021

: 666

: 244 x 188 x 20 mm.