Op werkdagen voor 23:00 uur besteld, volgende dag thuisbezorgd.
Scandinavian and Japanese design styles 'highlight' the philosophy of 'less is more', each in its own way. When put together, a unique new concept called 'Japandi' arises. Influenced by the ancient Japanese philosophy of wabi-sabi and the Scandinavian's practice of hygge, Japandi celebrates refined quality, subtlety and craftsmanship. It takes the minimalistic home to another level of luxury and elegance.
With more than two hundred inspiring images of the most beautiful Japandi interiors and designs, this book inspires its readers to transform their own homes into elegant, comfortable and decluttered places - to establish harmony with their environment, away from the hectic world outside.
'For me Japandi is also about making conscious choices and appreciating what you already have. In this book I share practical tips and tricks and lots of inspiration to help you create your Japandi-inspired home.'
- Laila Rietbergen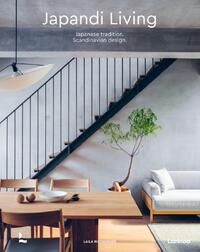 : Lannoo

: 9789401483711

: Engels

: Hardcover

: 256

: augustus 2022

: 1491

: 288 x 230 x 30 mm.

: Binnenhuisarchitectuur