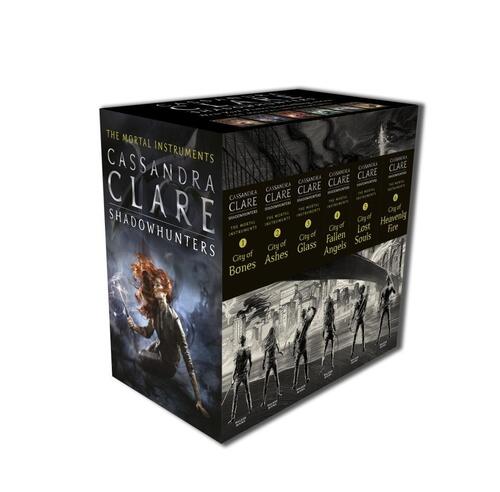 A witty, action-packed urban fantasy of vampires, warlocks and shapeshifters that fans of Buffy the Vampire Slayer will adore.

Clary Fray is an ordinary teenager, but everything changes the night she witnesses a murder, committed by a group of teens. The group are Shadowhunters, warriors dedicated to driving demons out of this dimension and back into their own. Drawn inexorably into a terrifying world, Clary slowly begins to learn the truth about her family - and the battle for the fate of the world.

City of Ashes
Love is never safe and power becomes the deadliest temptation in the second in the internationally bestselling series The Mortal Instruments. Haunted by her past, Clary is dragged deeper into New York City's terrifying underworld of demons and Shadowhunters - but can she control her feelings for a boy who can never be hers?

City of Glass
Love is a mortal sin and the secrets of the past prove deadly as Clary and Jace face down Valentine in the third in the internationally bestselling series The Mortal Instruments. Amid the chaos of war, the Shadowhunters must decide to fight with the vampires, werewolves and other Downworlders - or against them. Meanwhile, Jace and Clary have their own decision to make: should they pursue the love they know is forbidden?

City of Fallen Angels
Love. Blood. Betrayal. Revenge. The stakes are higher than ever in the fourth in the internationally bestselling series The Mortal Instruments. The Mortal War is over, and sixteen-year-old Clary Fray is back home in New York, excited about all the possibilities before her. She's training to become a Shadowhunter and – most importantly of all – she can finally call Jace her boyfriend. But nothing comes without a price...

City of Lost Souls
What price is too high to pay, even for love? Darkness threatens to claim the Shadowhunters in the harrowing fifth book of The Mortal Instruments series. Can the lost be reclaimed? Who can be trusted when sin and salvation collide?

City of Heavenly Fire
Darkness returns to the Shadowhunter world. As their society falls apart around them, Clary, Jace, Simon, and their friends must band together to fight the greatest evil the Nephilim have ever faced: Clary's own brother. Nothing in the world can defeat him—must they journey to another world to find the chance? Lives will be lost, love sacrificed, and the whole world change in the sixth and last installment of the Mortal Instruments series!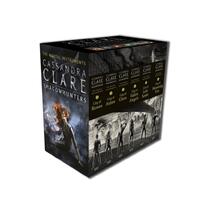 : 9781406359824

: Engels

: Paperback

: 1

: november 2014

: 2211

: 202 x 202 x 134 mm.

: Kinderen / tieners: fictie: fantasy

: fantasy